Karachi | 27 DECEMBER 2022
Journalists frequently work in high-risk environments, covering conflict and natural or man-made disasters from the front lines and providing vital information to those affected by the crisis as well as to first responders.
The International Committee of the Red Cross (ICRC), along with the Centre for Excellence in Journalism at the Institute of Business Administration (CEJ-IBA), organized a two-day workshop and an awards ceremony for journalists, focusing on ethical, responsible and inclusive news coverage of humanitarian issues.
The ethics of reporting should not be compromised and even more important than that is that all front-line reporters should be recognized and their efforts should be appreciated.
Jamal Khan, head of the ICRC's delegation in Pakistan.
Held in Karachi, the workshop covered a range of topics from climate change journalism to gender-sensitive reporting to working with humanitarian and rescue organizations and fact-checking to avoid spreading misinformation and disinformation. Journalists from different media houses shared their perspectives and brainstormed to find solutions to the challenges they face on the ground.
The workshop was followed by the 6th Humanitarian Reporting Award 2022 to highlight and promote ethical, accurate and responsible reporting on humanitarian issues including violence against healthcare workers, disaster reporting, challenges for people with disabilities, disaster response and preparedness. The awards are part of the Humanitarian Reporting Initiative founded in 2017 by the ICRC and the CEJ-IBA to develop a training programme that promotes ethical humanitarian reporting through training sessions, awards, fellowships and webinars.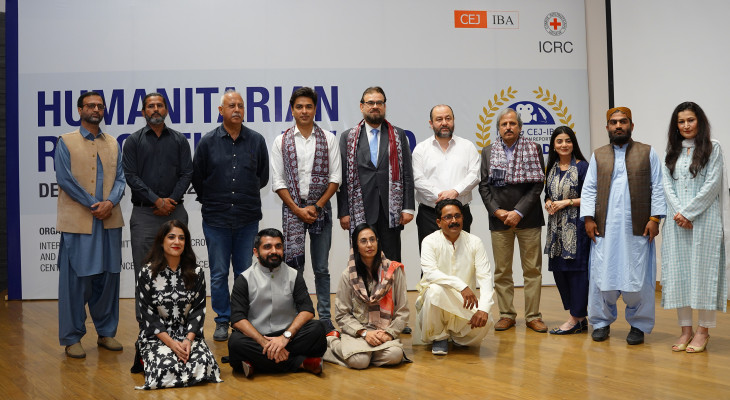 Over 650 news stories, written or produced between 7 September 2021 and 16 October 2022, were screened by a panel of senior journalists for the awards. Jury members included Naziha Syed Ali, assistant editor, Dawn, Mazhar Abbas, journalist and political analyst, Zebunnisa Burki, editor at The News International and founder of South Asian Women in Media (SAWM) and Shahzeb Jillani, journalist and co-host of the news programme Zara Hut Kay.
Shehzad Roy, founder and president of Zindagi Trust and the chief guest at the award ceremony, lauded journalists for their bravery and hard work. "In Pakistan, we have freedom of speech, not freedom after the speech," he said, stressing the importance of good journalism.
Dr Abdul Bari Khan, founder and CEO of Indus Hospital and Health Network, was presented with the Humanitarian of the Year Award 2022 for his exceptional contribution to the healthcare sector in Pakistan. The CEJ-IBA and the ICRC established this award in 2021 to recognize individuals who make a positive impact on society through their outstanding work for the community.
The winners and runners-up in the four awards categories of the 6th Humanitarian Reporting Award 2022 are:
Mainstream Broadcast (Urdu & regional languages)
Mainstream Print (Urdu & regional languages)
Mainstream Print (English)
Online (English, Urdu & regional languages)